ASEAN Cities Towards Urban Sustainability
31 January 2019
By JAIF Management Team
Cities play an important role in the development of nations. They serve not only as hubs for economic and political activities, but also as centers of cultural interactions among its populace.
Home to some of the fastest growing cities, the ASEAN region, like the rest of the world, also faces the challenge of balancing the economic benefits of urbanization and the environmental costs that go with it.
In recent years, ASEAN has undertaken humble steps to address this challenge. It recognizes that a collaborative, integrated, and innovative approach is key to promote the development of ASEAN environmentally sustainable cities (ESC). Through the ASEAN ESC Model Cities Programme, a network of 40 ASEAN cities has embarked on a shared journey towards urban sustainability at the local level. Encouraging milestones were reached from the ESC pilot projects as seen from the stories of Da Nang in Viet Nam and Luang Prabang in Lao PDR.
Da Nang's environmentally friendly residential areas  

Da Nang, a coastal city, is one of Viet Nam's famous tourist destinations. Recently, the city took pride in hosting the 6th Global Environment Facility Assembly in 2018 and the Asia-Pacific Economic Cooperation Summit in 2017. Such opportunities that have put the city in the international stage are encouraging for Da Nang to further step up its efforts to make the city an environmentally friendly city.
From 2011 to 2015, the city participated in the ASEAN ESC Model Cities Programme. Its pilot project was on environmentally friendly residential areas. Through the ASEAN ESC Model Cities Programme, Da Nang established three models of environmentally friendly residential areas: 1) Chinh Gian Ward (Thanh Khe District), 2) Hoa An Ward (Cam Le District), and 3) Thai Lai Village in Hoa Nhon Ward (Hoa Vang District).
"Like other rapidly developing cities in Viet Nam, Da Nang was facing a solid waste problem, in particular in suburban areas. Littering, low collection rate, and unsegregated waste were common practices, due to the community's limited awareness," said Nguyen Thi Thu Ha, Deputy Head of Da Nang Department of Natural Resources and Environment. Nguyen Thi Thu Ha shared that she was most proud when her office visited Chinh Gian Ward sometime after the assistance to the pilot project finished. She witnessed huge improvement in the residential area's waste segregation and waste collection practices. "We hardly saw any litters on the streets," she added. Instead of comprehensive yet complicated rules, the community introduced simple, practical rules that are unlikely to confuse and be resisted by the majority of residents who are not used to waste segregation. As these rules were agreed upon and enforced by the community members, they took effect quickly. For example, the pilot areas only separated wastes into 1) 'recyclable' waste with market value and 2) 'all other wastes', which must be placed in properly designated areas, instead of segregating them into at least 4-5 (or more) categories as is done in advanced countries.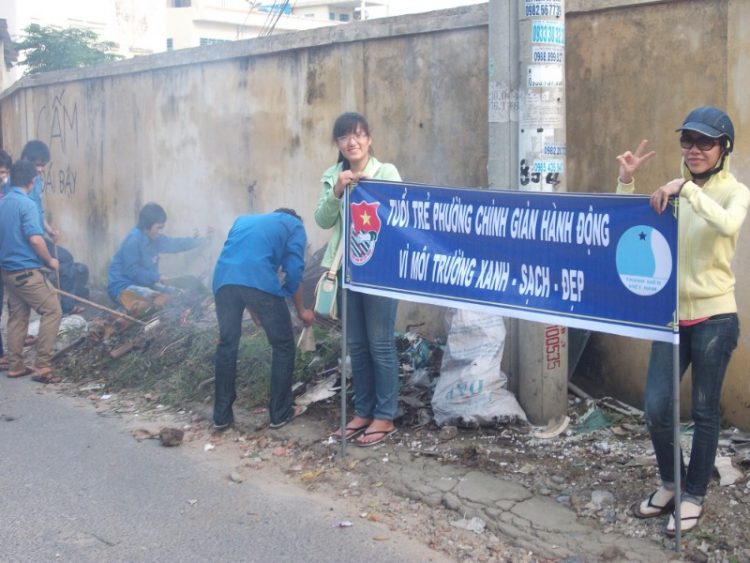 © People's Committee of Da Nang and Institute for Global Environmental Strategies (IGES)
"Due to active participation of the local community after several training and awareness raising campaigns by the project, Thac Gian [Chinh Gian Ward] has become an environmentally friendly residential area with good waste segregation and waste collection practices," said the Deputy Head. In particular, direct participation in weekly clean-up, organic farming, waste segregation, and composting activities by established community volunteers has emboldened residents to protect what they have achieved together. Further, these first-hand experiences have exposed officials and residents alike about the impact of waste problems to the environment and public health.
Now, the city is continuing to work hard in implementing its policy on low carbon and climate resilient city. It also commits to keeping the ASEAN ESC award it received in 2011 and making Da Nang as one of the most livable and beautiful coastal cities in the world.
Luang Prabang's decentralised wastewater treatment system    

Luang Prabang, conferred as a UNESCO world heritage site in 1995, is Lao PDR's most famous tourist destination.
From 2014 to 2017, the city participated in the ASEAN ESC Model Cities Programme through its wastewater pilot project. Pakkham Village, situated at the heart of the heritage town area and at the entrance of the famous night market, served as one of the project sites. "All tourists and visitors to Luang Prabang will definitely come to this area. Although this area is heavily visited by both domestic and international tourists, there was not even a single public toilet, which is a great inconvenience." This was the unfortunate reality as described by Yengher Vacha, Project Manager of the ASEAN ESC Model Cities Programme for Luang Prabang.
In 2017, with support from the ASEAN ESC Model Cities Programme, the city of Luang Prabang constructed not only the town's but also the country's first ever public toilet with a decentralised wastewater treatment system (DEWATS). A DEWATS-linked public toilet ensures that it will not discharge purely untreated wastewater directly into the environment.
© Yengher Vacha/City of Luang Prabang
"In Lao PDR, it is highly unusual for such projects to be implemented in consultation with the local community. However, in this project, we had to actively engage the locals to secure their commitment and collaboration, so that the public toilet could be sustainable in terms of finance and operations. In fact, the locals were so supportive of this project that they voluntarily contributed their own budget to construct a water tank and surrounding walls, which was additional to the seed funds provided by JAIF,"  Yengher Vacha proudly shared.
Today, more than transforming the area into a much cleaner, greener, and brighter space, the residents of Pakkham Village have benefited from improved hygiene and sanitation. Moreover, the residents have partnered with the city government to manage and operate the public toilet. They also have taken up the responsibility of cleaning and collecting a nominal entrance fee from visitors, which pays for cleaning materials and also contributes to the village fund. Heavily dependent on sustainable tourism, the city sets its eye on transforming "this formerly low-value, neglected public space around the night market, into a productive and valuable space for locals and tourists," while maintaining its reputation as a model site for learning about sanitation and wastewater treatment for other Lao cities.
The stories of Da Nang and Luang Prabang have demonstrated the strength of empowering local communities to take on the responsibility of creating a community that is clean, green, and livable for current and future generations. Weaving these local efforts into the national and regional fabrics remains as the ASEAN ESC Model Cities Programme's commitment towards urban sustainability.
Da Nang participated in the JAIF supported project "ASEAN ESC Model Cities Programme" from Years 1 (2011-2012) to 2 (2014-2015) while Luang Prabang participated from Years 2 (2014-2015) to 3 (2016-2017). The Programme focused on promoting the development of environmentally sustainable cities across ASEAN countries by working with various stakeholders at the local/city, national, and regional levels. It is succeeded by the "ASEAN SDGs Frontrunner Cities Programme," also supported by the Government of Japan through the JAIF.